Last Wednesday my 6-year-old daughter Felicia suggested that we go to Gepetto's in downtown Newton for lunch. She's becoming a regular there, stopping by just about any time she's in town to see a show at the Old Post Office Playhouse. The rainy day inspired an indoor activity after lunch, so we walked across the street to the History Museum of Catawba County, which is in the old courthouse building in the center of town.
We had never been inside before, so we weren't sure what to expect, but it was a fun visit. We started on the ground floor, where there are four different doorways to enter the building. The door we entered brought us into a rotunda with wall decorations that reminded us of icing on a decorated cake. The helpful staff person told us about the layout, making sure to point out the children's room in the basement level.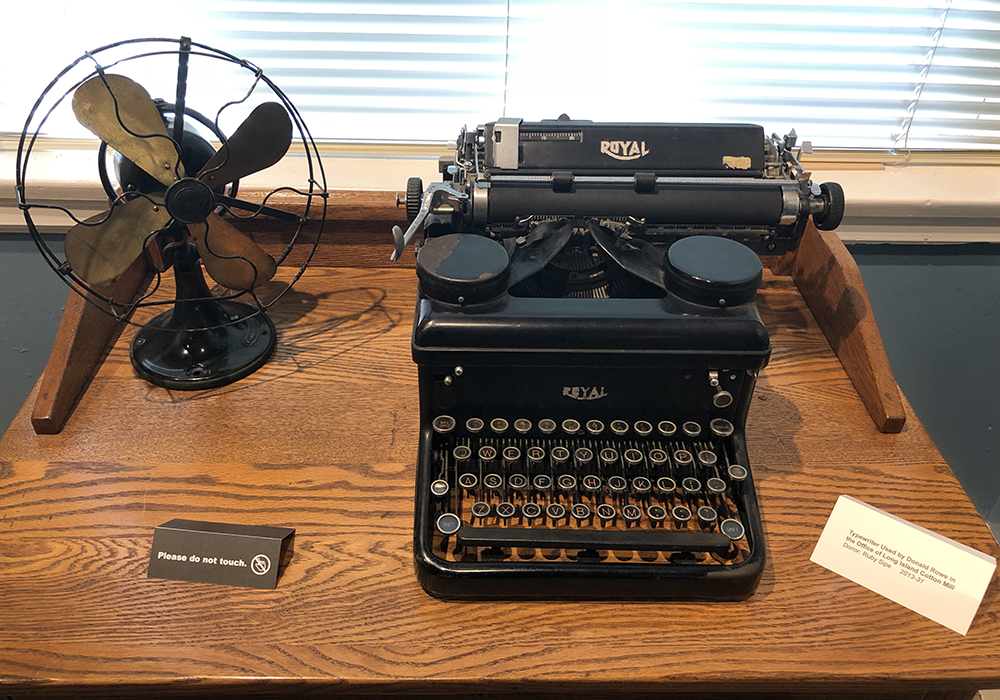 The exhibits change periodically, but for now, the ground floor has several rooms, each dedicated to a topic. One display talks about the local treatment of Polio in the middle of the last century, which gave us a chance to discuss viruses, public health, vaccines, and advances in medicine. Another room shows uniforms and artifacts from several wars, including stories of soldiers, a nurse, and a chaplain. There is a pottery display highlighting local artists and local history, where we learned that pottery glazes can be made from crushed glass. Some rooms are configured to show the living conditions in homes in the 1800s, and we got to see a soapbox derby car. Felicia recalls the highlight of that floor being a "real typewriter." The staff told us that in August a new traveling Smithsonian exhibit would be installed where the war and pottery exhibits currently are.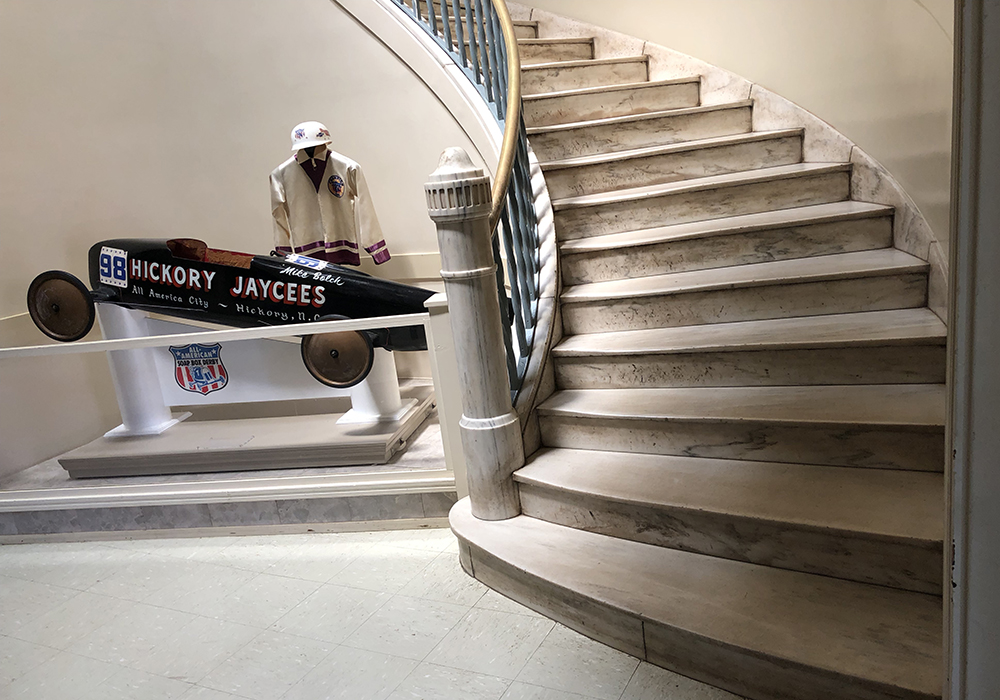 As we climbed the marble spiral staircase, Felicia said it reminded her of Elsa and Anna's imaginary house. Upstairs we found the old courtroom. We sat quietly in the audience seats and took in the quiet space. Many lives were changed there between 1924 and 1980 when it served as our county's courtroom. We talked about the furniture and features of the room, and who would use them. There is a place for the judge, the jury, the witness, the attorneys, and the people who would come to watch. There are so many lessons to learn about why we must have a court system, and how that system works. We talked about the American flag and the North Carolina flag, the county seal in the front of the room, and how people work together to create governments. We imagined the other 99 rooms like this in our state, each rumored to have been placed one day's horseback ride from the outermost edges of its county before we had the luxury of driving our cars on nice paved roads. Then we talked about how 49 other states in our country all had similar rooms in each of their counties, helping us understand the scope of our sense of place.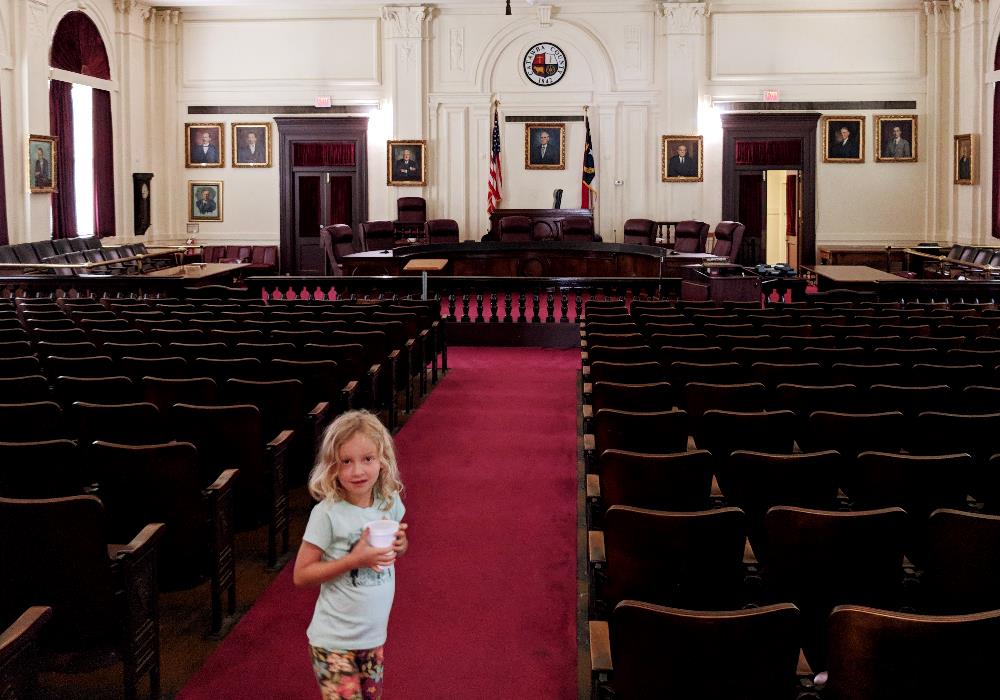 In the basement, we got to see beautiful, meticulously decorated Hmong textile pieces on display, including a baby carrier. Felicia has always been a big fan of baby carriers, especially when she rode in one. These were part of an exhibit about immigration and demographics in our area. I recently read about this type of artwork in Anne Fadiman's book "The Spirit Catches You and You Fall Down: A Hmong Child, Her American Doctors, and the Collision of Two Cultures," which is a great source for understanding the Hmong culture and the historical events that led to their migration. We checked out the children's room, which included dress-up costumes, coloring sheets, Lincoln Logs, and a meticulous diorama of how a Cherokee village might have looked. Across the hall, there was a room full of old medical artifacts, and even a jail cell and an old 1930s race car in the hallway. Our final stop was at a large reprint of Robert Yoder's 1886 map of Catawba County. We talked about how much has changed since then, and how much has stayed the same. The roads are different, as are the names. Several of the churches on the map are still there, as are the mountains, rivers, and even little Hop Creek that flows through the yard in front of our house.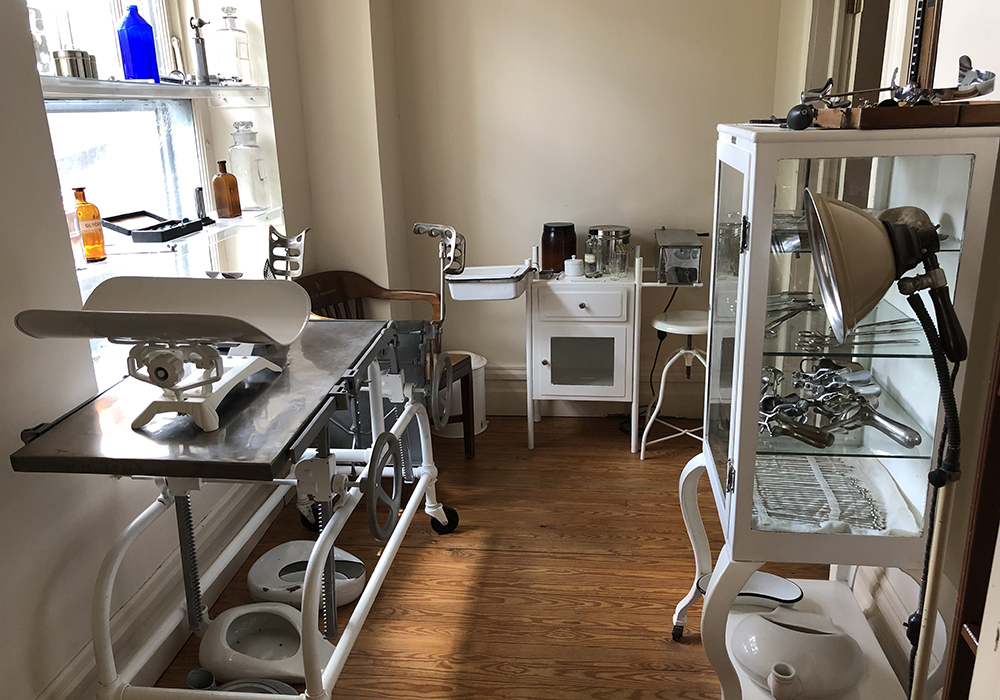 Isn't it fantastic that we can have a space in our area dedicated to preserving a few artifacts and details about what has happened here before we came along? It helps us remember that many have come before us, and long after we are gone, many others will also call this place home.
The History Museum of Catawba County is located at 30 N. College Avenue in downtown Newton and is open Tuesday through Saturday 9am-4pm. Admission is free. For more information, call (828) 465-0383 or visit catawbahistory.org/museum-of-history.