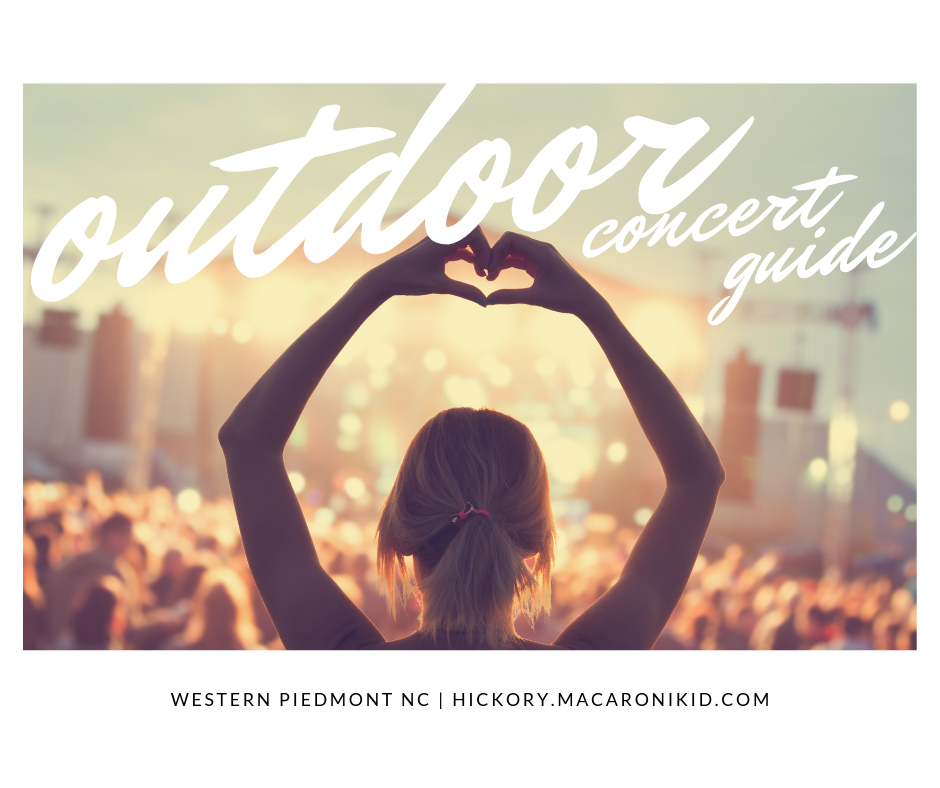 Outdoor concerts are a great way to spend time outside during the beautiful summer months. Whether you choose to take the kids for a fun family night out or maybe get the chance to sneak away for an outdoor date night, below is a list of local concerts in Hickory, Newton, Morganton, Lenoir, Lincolnton and the surrounding areas of the NC Western Piedmont. Grab your chairs or a blanket, pack a picnic dinner and head to one of these fabulous events to listen to some great music out in the fresh air.
Click on each date for full details and find all of these great kid-friendly outdoor concerts and music series on our calendar of local family fun. Check back regularly as we'll be adding more as we come across them. Know of something missing? Send in the details using our submit an event form.


Sails-Tunes in Trade Alley (Hickory)
Fridays in May & June, three bands are featured weekly at 2:30, 5:00, and 7:30pm in Trade Alley in Downtown Hickory.
Sails Original Music Series (Hickory)
Fridays in September from 6:30-8 pm at the Sails on the Square in Downtown Hickory. Read our review HERE.
Get Your NewtOn! (Newton)
Saturdays at 3pm starting in April, 4pm mid-June, back to 3pm late-September. Series runs through end of September at Catawba Farms in Newton.
Family Friday Nights (Valdese)
Friday nights, May through September. The music starts at 7 pm at the Town of Valdese parking lot beside Wells Fargo Bank on Main Street.
TGIF Concert Series (Morganton)
Friday nights May through July. Bands perform at Historic Burke County Courthouse Lawn in Morganton from 7pm till 10pm with food and beverage vendors opening at 6pm.
Friday After 5 Summer Music Madness (Lenoir)
Friday nights June through mid-August starting at 7pm (except where noted) on the square in Downtown Lenoir.
Conover Alive (Conover)
Every other Friday in June and July at Conover Station in downtown Conover. Concerts start at 7pm and the splash pad is open late for the kids!
Home Town Concert Series (Hudson)
Friday nights June through early July from 7-9pm at Hickman Windmill Park (behind Town Hall) in Hudson.
Hildebran Cruise-In Concerts (Hildebran)
Fourth Saturday of each month May-September from 5-9:30pm at Hildebran Town Hall.
Summer Concert Series (Connelly Springs)
Last Saturday of each month May - September from 5:30-9:30pm at Town Hall in Connelly Springs.
Alive After 5 (Lincolnton)
Last Thursday of each month May - September. DJ Johnny B stirs up the fun at 6pm before the band kicks off at 7pm on Main Street in front of the Courthouse in Lincolnton.
Summer on the Square Concert Series (Taylorsville)
Located at the Alexander County Courthouse from 7:30pm - 9:30pm with more dates TBD
Jive After Five (Maiden)
Various Fridays throughout the summer from 5:30-9:30pm at Maiden Town Hall

Like this guide? Subscribe to the FREE Hickory - W Piedmont Macaroni Kid newsletter to learn more about other awesome local events. Click on our local Events Calendar for an easy way to find fun events for your family!